Balthazar and Balthazar Downtown, two hidden gems born out of the desire for the very finest things in life.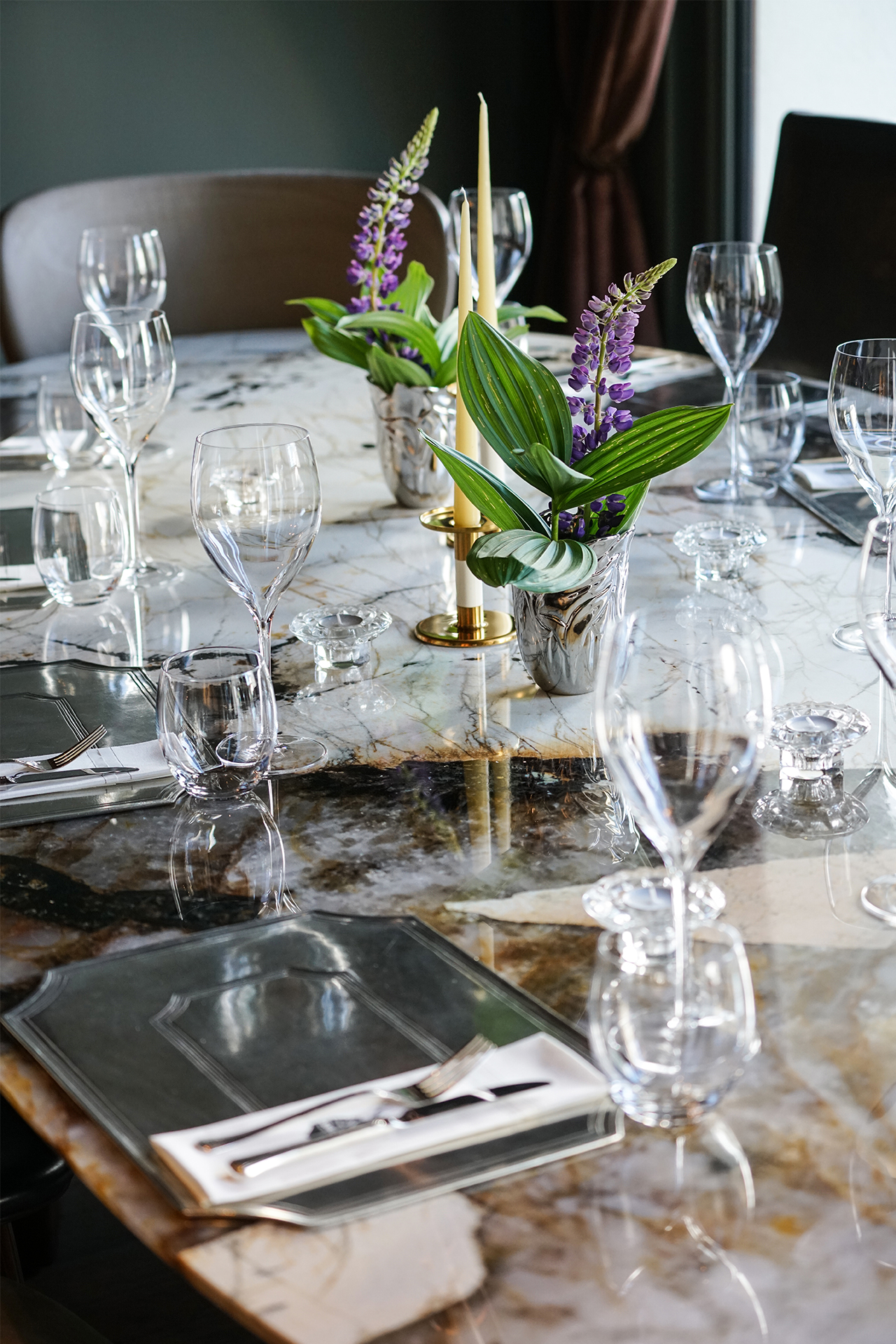 la dolce vita
Balthazar is a concept restaurant declined in two versions, the Balthazar, with its traditional and genuine cuisine, and the Balthazar Downtown, whose specialty is mixing only the best of oriental and Mediterranean seafood cuisine. The two restaurants are the ultimate destination for every true food lover; the kind of restaurants you dream of visiting once in a lifetime. They offer food prepared to the very highest of standards every day and at all hours in the most exclusive and exciting environment, the richest in sensations and aromas that there is today in the Swiss Alps. Balthazar and Downtown are the beating, warm, friendly and yet informal heart of "la dolce vita" in St Moritz.
cusine, wine, luxury and tradition
Balthazar and Balthazar Downtown have successfully created what St. Moritz lacked; a special place to meet, exclusive, yet warm and inviting, "a restaurant that is like your home but open to all those who, like you, love to live well and have only the best". With their combination of comfortable lounge and exciting cuisine the two Balthazar restaurants offer the best food and wine, carefully chosen to reflect the very best of Italian cuisine with a contemporary twist and fusion of gastronomic styles. All with sincerity and simplicity, day or night for a quick lunch, a special celebration or an after-work cocktail.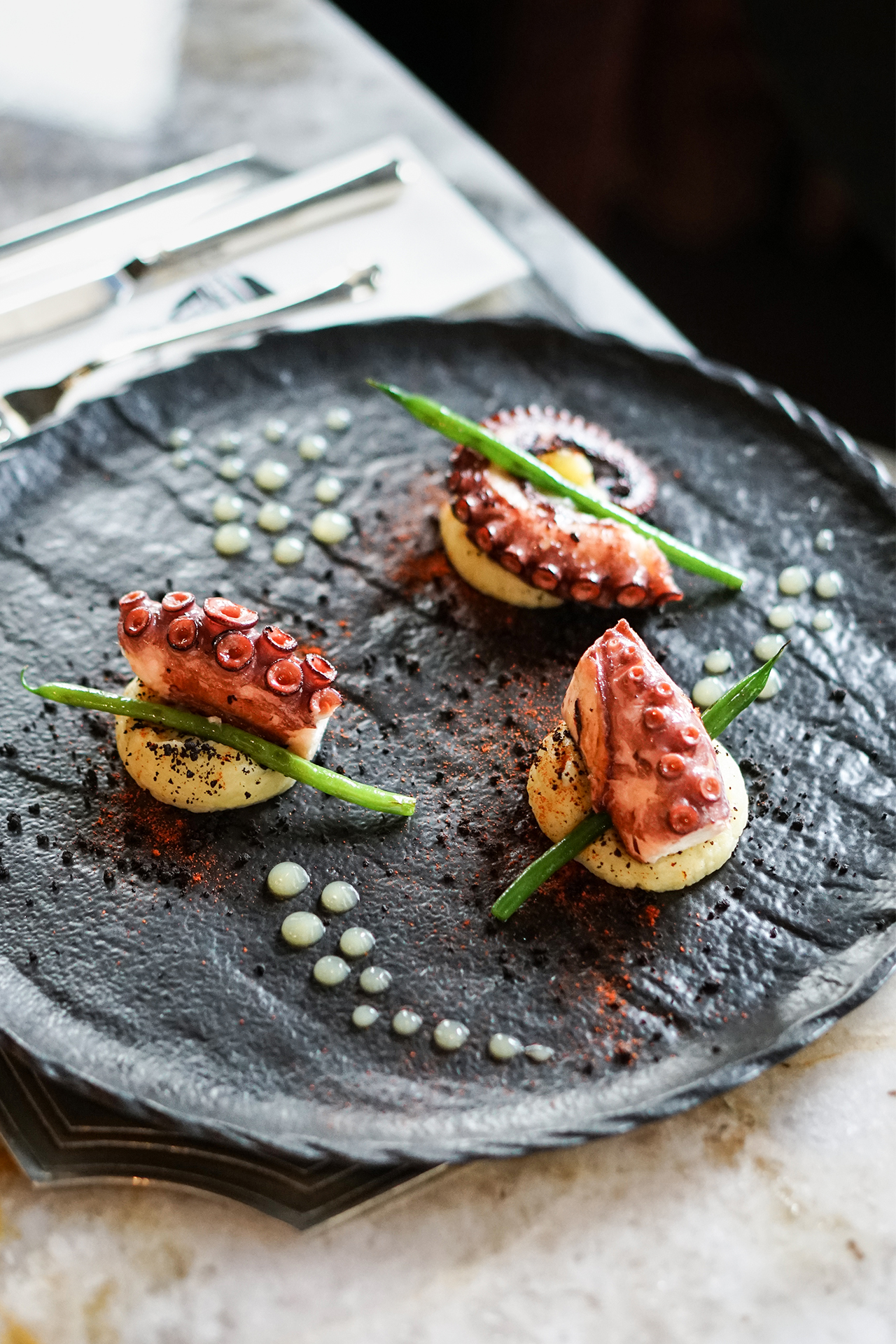 the place where dreams come true
Their modern, exclusive, luxurious yet never formal setting is distinctly different from the local hotels, their aim being to pursue the dream of a place where you will always feel welcome, alone or with company, for an intimate dinner for two or for a party, keeping the same spirit and the same warm and welcoming atmosphere you would find at home. Balthazar and Balthazar Downtown are an innovative new addition to the town of St Moritz, genuine and modern. "It is a dream that we have realized by following only the taste for living well and for the pleasure of always having only the best."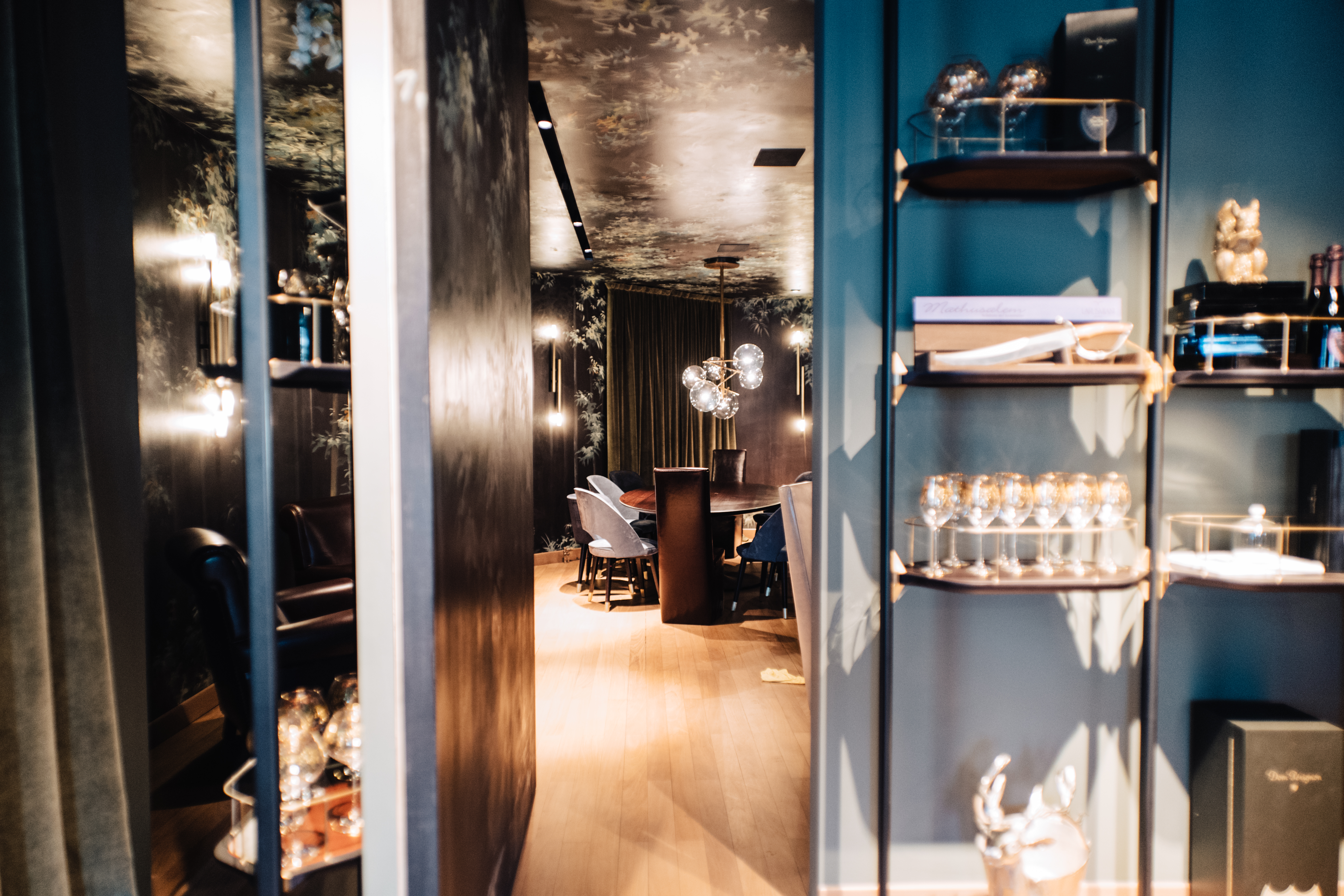 the very best of italian cuisine
The idea at the heart of Balthazar is building something completely new and unique from scratch, different from everything else, set in the heart of the capital of winter tourism, of luxury and of the enjoyment of life, in front of its enchanted lake and a few metres away from its historic centre. For those who want to dream big, Balthazar is the ideal restaurant lounge bar to spend an evening out eating and drinking only the best in a relaxed place making you feel at home: the Balthazar for those who want excellent cuisine, with a contemporary twist and fusion of gastronomic styles, and the Balthazar Downtown for those who dream about the sea and are looking for a modern cuisine entirely dedicated to fish and seafood.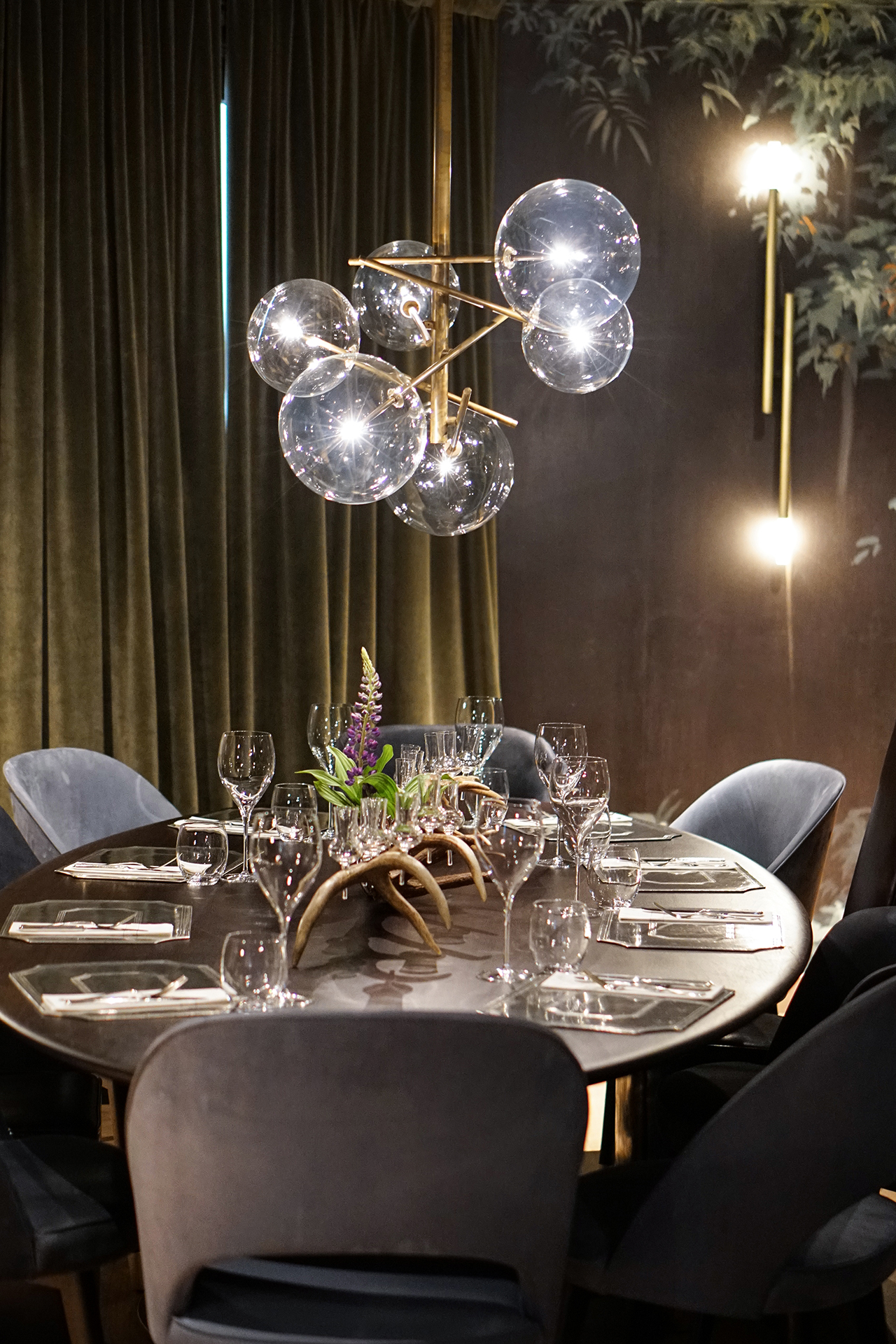 always new atmospheres
The idea of Balthazar, developed as Balthazar St Moritz and Balthazar Downtown, started as a dream that grew bigger along the way and was enriched with new ideas, dishes, objects and atmospheres never seen before. And as dreams deserve, big dreams, Balthazar and Downtown are the centre of the world for those who always reach for more and always look for the best food and drink, without compromise, the right attitude when you want something that does not exist yet and that nobody has never done before.
many opportunities and many friends
Work or leisure? You can visit Balthazar with your wife, your partner, your children, your doggie... or you can invite your clients for a business dinner. You can book a private dining room for extra privacy, the Chef's Table for a top gastronomic experience, or enjoy your dinner in the main hall, if you prefer staying with other guests and experience the glamour that only a very few places in the world can give. In St Moritz, you can.
a pet-friendly restaurant
Balthazar is pet-friendly: our bowls are always full of fresh water, treats and biscuits for your four-legged friend.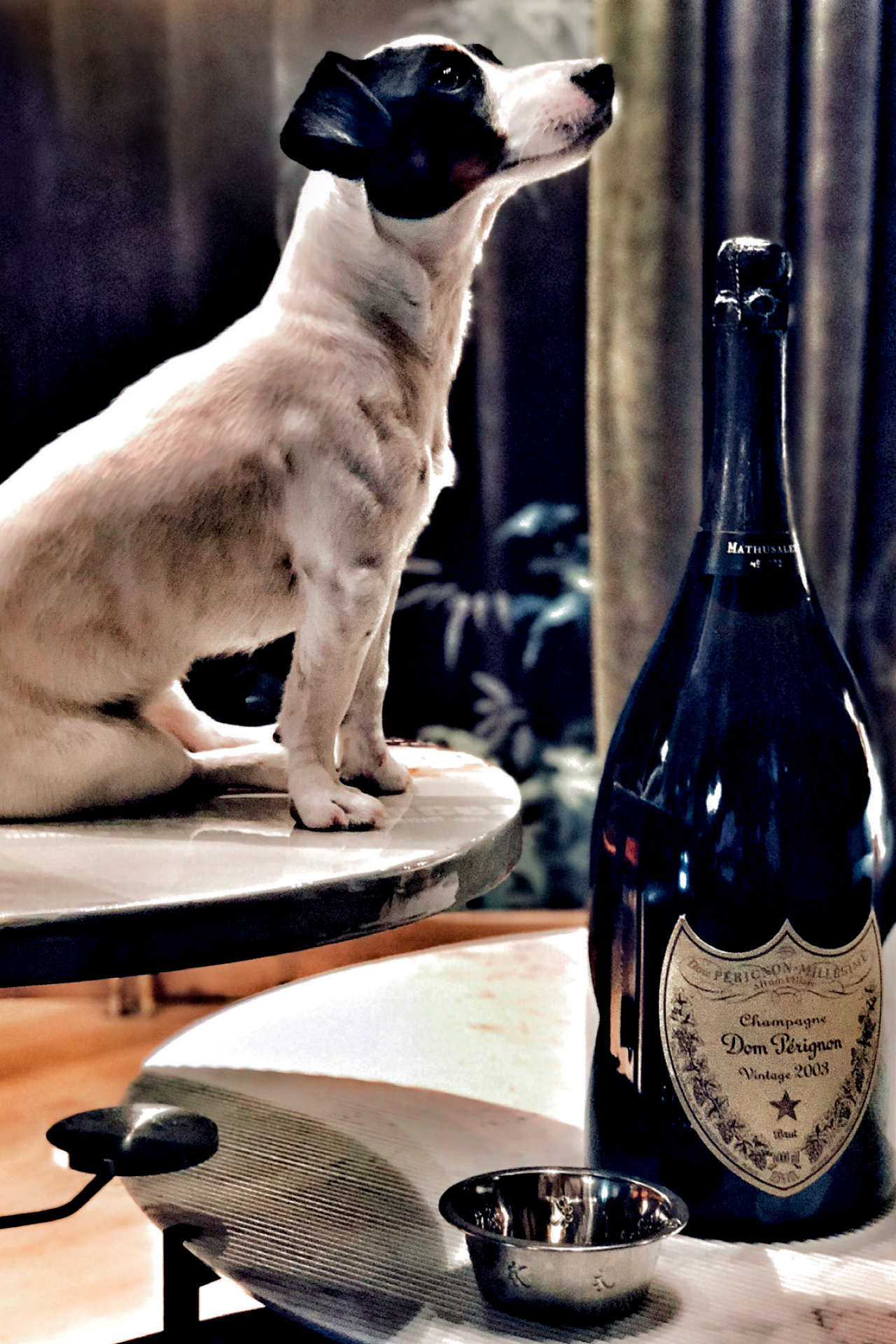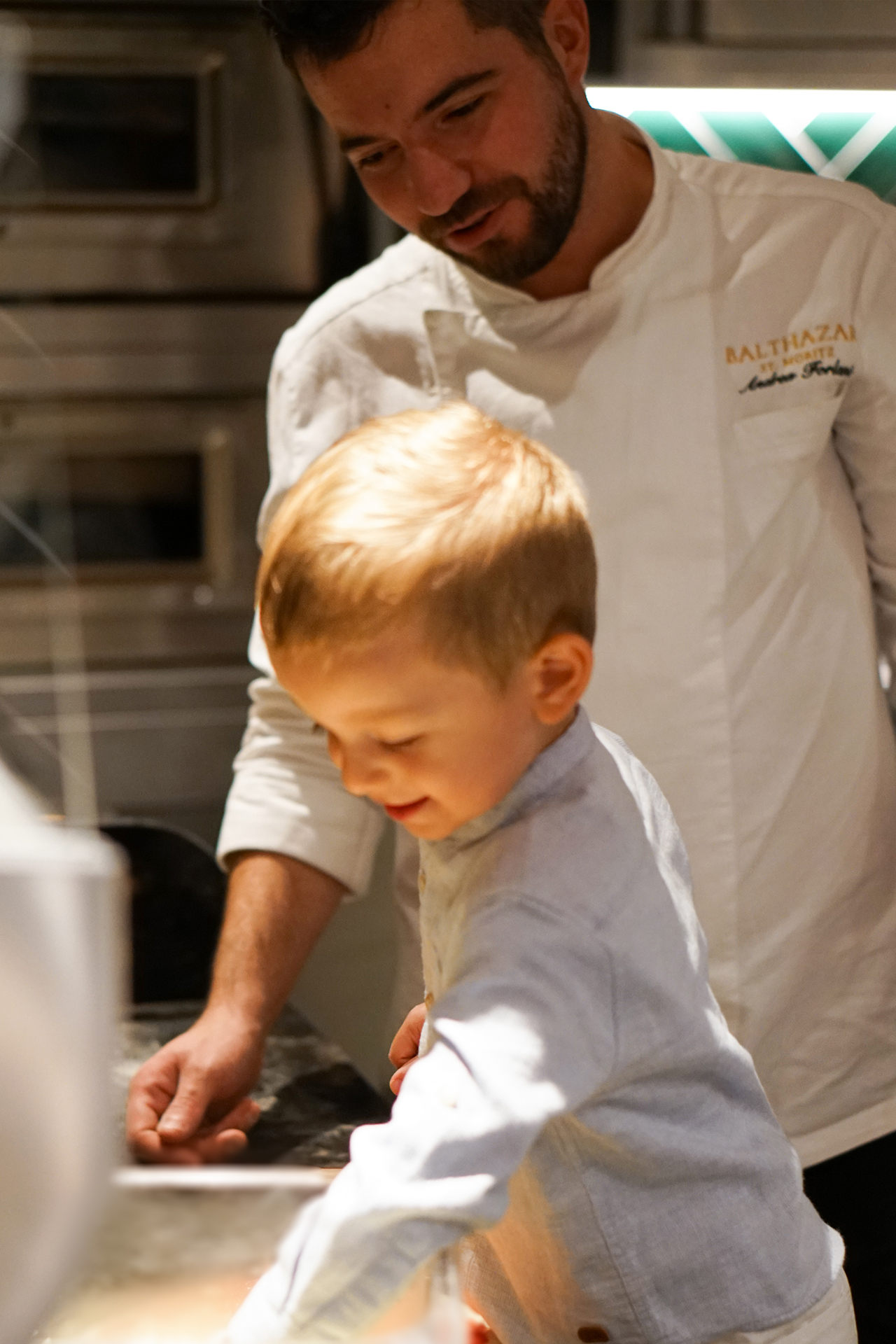 and kid-friendly too
As parents of young children, we know very well how difficult it is to find a place in St Moritz where your kids can play at ease in a smoke-free environment while you enjoy the pleasures of social life. At Balthazar you can. Children are always welcome, here they can find board games, activity books, crayons and all the necessary to create, explore and have fun. You can come with your children at seven in the evening, have a cocktail while they have dinner, and then take them home. After six in the afternoon, when families come to have dinner or an aperitif, our attention to your kids' experience is truly limitless. Balthazar staff would often take them into the kitchen to discover the cooks' "secrets" or to make a pizza with the pizza chef. Making your children live a unique experience is one of our mission. We want make them feel like home. Or even better.