FROM OSSOBUCO TO CARBOCALAMARO®
Balthazar cuisine is an exciting-yet-respectful fusion of the best dishes of the Italian tradition and contemporary trends, but we offer an intentionally-limited selection of dishes in order to use only raw materials of the highest quality. At Balthazar's you can taste pork knuckles, ribs, pork cheek cooked at low temperature, ossobuco, fillets and an ample choice of homemade pasta, but we offer different menus during the year and incredible off-menus during the whole season. One of our iconic dishes is Carbocalamaro®, a unique recipe that you can only enjoy at Balthazar. And how about our delicious, crunchy tiramisu? You can't miss it.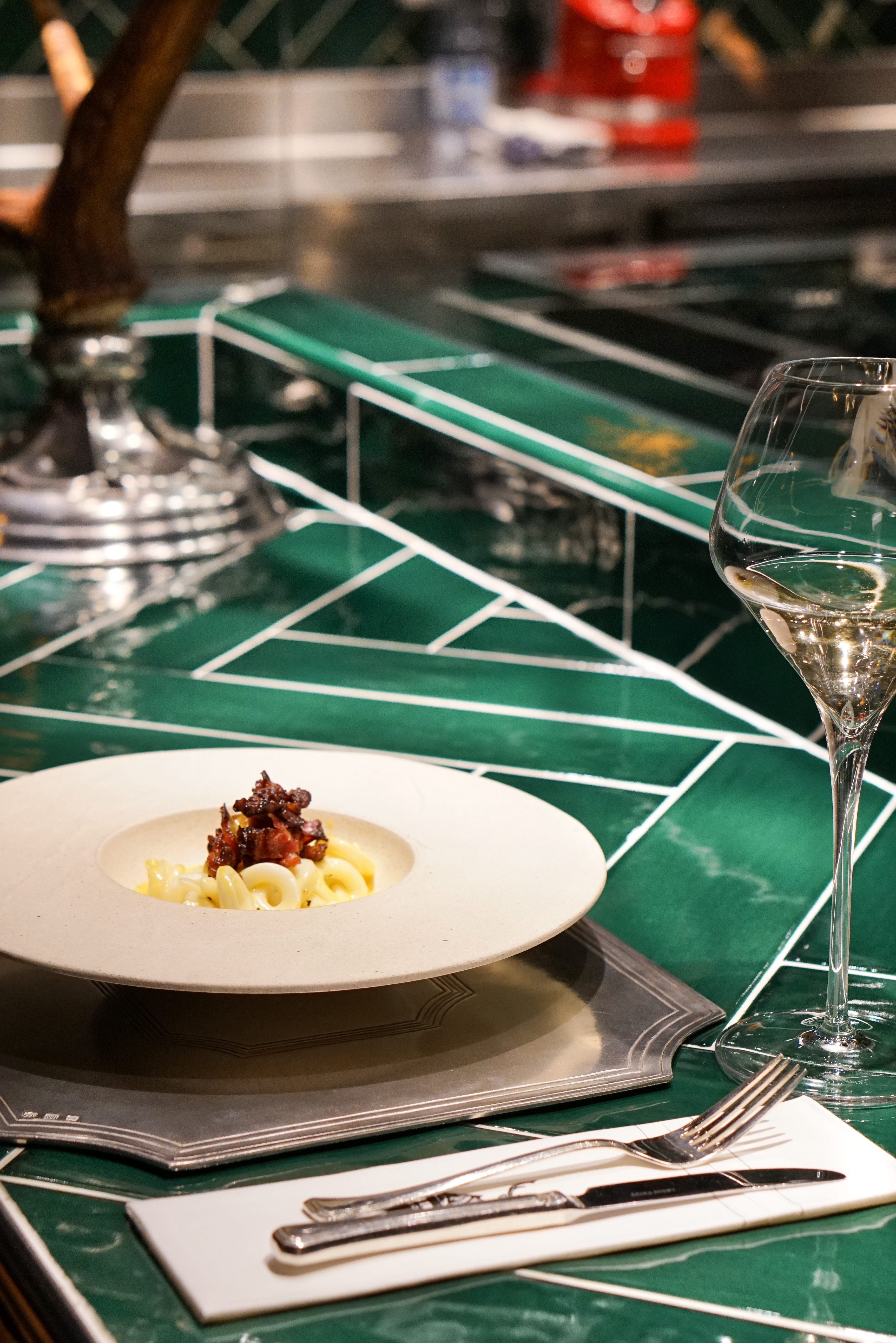 STARTERS
Mazara del Vallo red shrimp tartare with yuzu and shisoCuttlefish noodle with almond pesto, thyme, avocado and lime65 degree egg, baby asparagus nest and bottargaOur Veal TonnatoBeef tartare with a crispy vegetable coneMarinated deer with fennel veils and citrus
PASTA AND CO.
Linguina with pistachio, sea bass, lime, red chili pepper and thymeFresh pappardelle with veal sausage, artichokesHandmade Bolognese tortellini in gold brothGuitar spaghetti "cacio e pepe" with Parmigiano 120 months and pepper of the toasted Maggia Valley
MEAT AND FISH
Carbocalamaro®Salmon fillet cooked at low temperatureBraised veal cheek with mashed potatoes and crispy vegetablesVeal ossobuco in gremolada with soft polenta with herbs
PIZZA
BALTHAZAR
Tomato sauce, mozzarella, Prà basil, culatello of Zibello, Parmesan 30 months, traditional balsamic vinegar of Modena
DE NIRO
Tomato sauce, burratina, Prà basil, pak choi, duck speck
JOHN WAYNE
Tomato sauce, mozzarella, Prà basil, chorizo, pimientos del padron
MARILYN MONROE
Cheese selection and black truffle
JESSICA RABBIT
Tomato sauce, Prà basil, raw mozzarella di bufala, fresh cherry tomato, anchovies
ALBERTO SORDI
Parmigiano Reggiano cream 120 months and pepper
REGINA MARGHERITA
DESSERT
Our crispy tiramisu
Bonet (Lactos free, gluten free)
"Cream cocca" with mango sauce (lactose free-vegan)
Sicilian cannolo with ricotta, chestnut honey, pistachios and orange
Black chocolate ball with panettone cream